Insertion Sort Algorithm
Insertion sort is a sorting algorithm in which an unsorted element is placed at the correct position in each iteration, that is, to the position to which it belongs in a sorted array.
Insertion sort is efficient as it reduces its total number of steps if a partially sorted array is provided as input.
Steps
Store the second element of the array separately in key.
Compare key with the first element.
If key is less than the first element, insert it before the first element else insert it after the first element.
Now, move to the third element and compare it with the elements to the left of it and then insert it in the correct position after comparison.
Repeat the process until the entire array is sorted.
Visualisation of insertion sort with array = {6, 2, 7, 3, 5, 4} :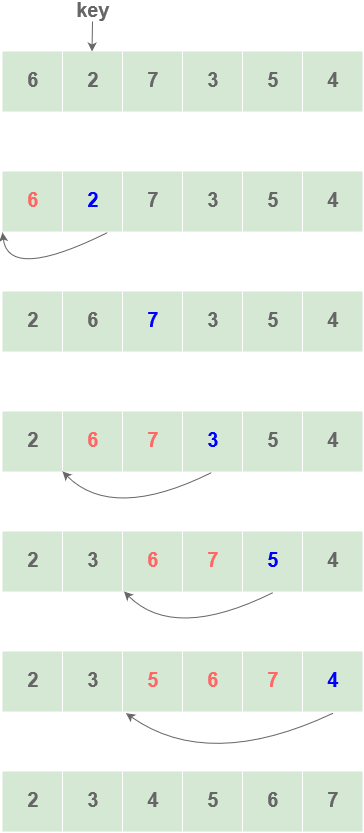 Code

void

 InsertionSort(

int

 A[], 

int

 

size

)
 {
  

for

 (

int

 i = 

1

; i < 

size

;i++)
  {
    

int

 

key

 = A[i];
    

int

 j = i - 

1

;
    

while

 (

key

 < A[j] && j >= 

0

)
     {
      A[j + 

1

] = A[j];
      --j;
    }
    A[j + 

1

] = 

key

;
  }
}




Each element is compared with all the other elements in the sorted array. For N elements , there will be N^2 comparisons in the worst case. Therefore, the time complexity will be O(N^2) in the worst case
If the array is already sorted, then the time complexity will be O(n)